Latham's Intellectual Property Litigation Practice Earns Two Prestigious Honors
May 30, 2018
National Law Journal and Chambers USA
Team recognized for its IP litigation and trial prowess.
In the span of a few days, the Intellectual Property Litigation Practice of Latham & Watkins earned two important honors: National Law Journal's DC IP Litigation Department of the Year, which annually spotlights elite IP practices in Washington, D.C.; and a 2018 Chambers USA Award, recognizing the firm's pre-eminence and notable achievements in IP law.
National Law Journal: D.C. Litigation Department of the Year – Intellectual Property Winner
Citing a "series of major appellate victories [that demonstrate] the strength of a well-rounded practice…years in the making," the National Law Journal highlighted the firm's various wins before the Patent Trial and Appeal Board (PTAB), the Federal Circuit, and the International Trade Commission (ITC). This is the third consecutive time that the practice has won the NLJ's prestigious D.C. IP Litigation Department of the Year award.
Latham's standout success for Ford Motor Company, racking up a total of 20 appellate victories last year serves as just one of the examples National Law Journal noted as illustrative of the firm's IP prowess in the nation's capital.
Speaking with the publication, partner and former Co-Chair of Latham's IP Litigation Practice Matthew Moore paid tribute to the hard work and dedication that practice and firm leaders undertook, and continue to take on, with regard to strategically growing the group into a powerhouse IP brand. As the NLJ noted, "Latham continued to grow last year, adding ITC specialists Jamie Underwood and Kevin Wheeler in lateral hires and placing the firm in a strong position for 2018." And even more recently, the firm added seasoned litigator Tara D. Elliott.
In addition to the IP group, Latham's Washington, D.C. Litigation & Trial team was honored by the National Law Journal as well. The firm also received top honors with a D.C. Litigation Department of the Year title.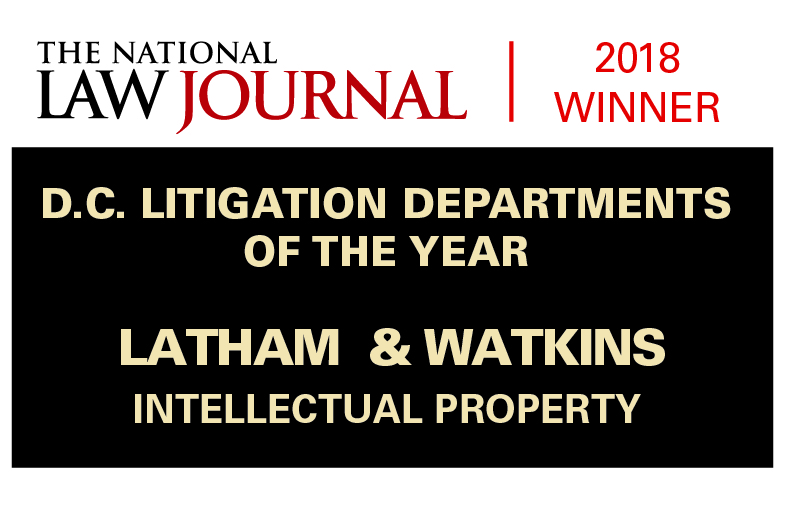 Chambers USA: Award of Excellence
Latham's IP Litigation Practice also earned a Chambers USA Award of Excellence for 2018. According to Chambers USA, "these awards are based on the guide's research for the 2018 edition of Chambers USA: America's Leading Lawyers for Business and reflect a firm's pre-eminence in key practice areas. They reflect notable achievements over the past 12 months including outstanding work, impressive strategic growth and excellence in client service."
In its profile of the firm's IP practice, Chambers USA noted: "Latham & Watkins has a thriving intellectual property practice, which sees its regularly handling high-stakes intellectual property disputes on behalf of blue-chip clients in the technology and life sciences sectors, among others. The firm has continued to expand its nationwide capabilities, with recent efforts to cultivate its Chicago and Boston-based offerings complementing its well-established DC and California practices."
In addition to the IP group, Latham's Energy: Oil & Gas group received the Energy/Projects: Oil & Gas Award of Excellence from Chambers USA.