Firm Honored for Pro Bono Efforts
A New York-based team was recognized by The Legal Aid Society of New York.
The Legal Aid Society of New York recognized Latham & Watkins at its 2019 Pro Bono Publico Awards for outstanding service to the Society and its clients. The Society is the oldest and largest provider of legal aid to the indigent and the impoverished in the United States. Latham has a longstanding relationship with the Society, part of the firm's deep and abiding commitment to offering free legal services and access to justice to the vulnerable in New York City and beyond.
A New York-based team, led by partner Rob Malionek, was honored for its work with the Society, particularly the class action victory they achieved earlier this year. In 2018, Latham and the Society filed a federal class action challenging the US Citizenship and Immigration Services' (USCIS) eligibility interpretation for Special Immigrant Juvenile Status (SIJS). Since 2008, SIJS has served as a legal pathway for unaccompanied minors under the age of 21, who have been abused, abandoned, or neglected by one or both parents, to obtain lawful permanent residency. However, a change to the policy in January 2018 meant that individuals who are over 18, but not yet 21, no longer qualified for SIJS and were therefore in danger of losing their immigration status. In April 2019, a federal court found that the agency's unannounced policy change was unlawful, that USCIS improperly denied class members' SIJS applications, and that class members are therefore eligible for reconsideration of their applications consistent with the court's order.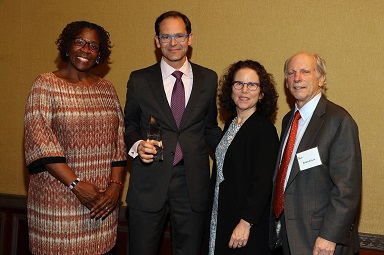 Partner Rob Malionek (second from left) accepted the award from the Legal Aid Society.