Latham Honored at the National Law Journal's 2019 Professional Excellence Awards Ceremony
Winning Litigators, D.C. Rising Star, and D.C. General Litigation Department of the Year Finalist recognitions were highlighted.
The National Law Journal recently held its annual Professional Excellence Awards ceremony "honoring those attorneys and judges who have made a remarkable difference in the legal profession in the D.C. area" in which Latham accepted the following awards:
Winning Litigators – Global Chair of the Litigation & Trial Department Michele Johnson and Global Chair of the Securities Litigation & Professional Liability Practice Andrew Clubok received a Winning Litigators award for their remarkable trial result for Puma Biotechnology in the NLJ's special report featuring a select group of lawyers who "scored big victories for their clients in high-stakes cases."
D.C. Rising Star – Supreme Court & Appellate partner Michael Bern received the NLJ's D.C. Rising Star award which recognizes lawyers who are "innovators, developing unique practice niches, amassing robust books of business, demonstrating strong leadership qualities, show[ing] expertise in litigation … and committing themselves to pro bono, charitable and professional volunteer work."
D.C. General Litigation Department of the Year Finalist – Latham's Washington, D.C. Litigation & Trial Department was recognized for a "hot year in 2018 [with] a series of wins for clients in cases where policy met the law."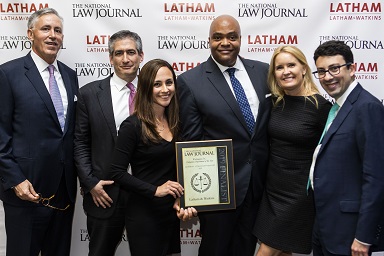 From left to right: Latham partners Bill Baker, Andrew Clubok, Sarah Tomkowiak, Kevin Chambers, Michele Johnson, and Michael Bern.