Firm and Judith Hasko Honored for Exceptional Life Sciences Work
September 17, 2018
LMG Life Sciences
Life Sciences Industry Group and partner Judith Hasko were recognized by LMG Life Sciences.
For the sixth year in a row, LMG Life Sciences has honored Latham & Watkins for its outstanding work in the life sciences industry. At this year's 2018 LMG Life Sciences Awards ceremony, the firm was honored in the following categories:
"Finance & Transactional Firm of the Year: M&A"
"Finance & Transactional Deal of the Year": Representation of Ignyta, in its US$1.7 billion sale to Roche Holdings. The award-winning deal was led by San Diego partners Cheston Larson and Michael Sullivan and Orange County partners Charles Ruck and Scott Shean.
Judith Hasko's Induction into the Hall of Fame: Silicon Valley Partner and Global Chair of the Life Sciences Licensing Group Judith Hasko was inducted into the LMG Hall of Fame. She was one of just four inductees this year. Hasko's remarkable career, dedication to clients and impact on the industry has earned her this impressive distinction.
LMG Life Sciences is the definitive guide to leading North American law firms and lawyers specialized in the life sciences industry in four categories: Finance and Transactional; Regulatory; Intellectual Property and Non-IP Litigation and Enforcement. The LMG Life Sciences Awards are based on a weighted system of peer, client and firm feedback recognizing firms, individuals and companies behind the most innovative and challenging Life Sciences work from the past year, as well as those driving the market.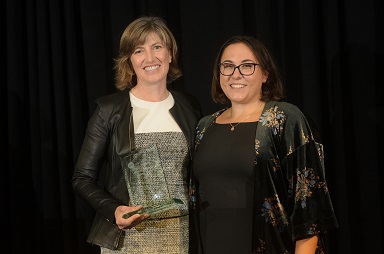 Judith Hasko (left) inducted into the LMG Life Sciences Hall of Fame by LMG representative Brittany Sharoff (right).