Firm Honored by Constitutional Rights Foundation Orange County
November 9, 2016
Constitutional Rights Foundation Orange County
"Law Firm of the Year" award recognizes volunteer support of programs that promote civic responsibility among local youth.
The Constitutional Rights Foundation Orange County ("CRF-OC") has honored Latham & Watkins with its 2016 "Law Firm of the Year" award in recognition of the firm's contributions to the organization's mission of empowering Orange County youth to be active, responsible citizens through participation in interactive civic and law-related education programs involving students and local business and community leaders. In particular, Latham volunteers have supported CRF-OC's Peer Court, a unique juvenile crime diversion program that offers both a second chance to first-time juvenile offenders who have committed non-violent misdemeanors and a valuable educational experience to high school students in Orange County. At Peer Court sessions held on school campuses across Orange County, sitting judges preside and attorneys advise as high school students designated as "jurors" assess the cases presented and assign appropriate sanctions. Students in the audience observe and participate in an interactive curriculum, learning about the juvenile justice system and the importance of making responsible decisions. CRF-OC is a non-profit, non-partisan education organization whose programs have been making a positive difference in the lives of Orange County teens for 35 years.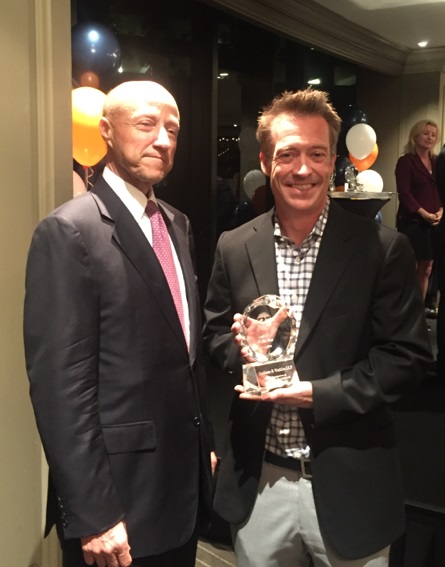 Shayne Kennedy, Office Managing Partner of Latham & Watkins
in Orange County, holds the "Law Firm of the Year" award presented
by Richard Grabowski, a Jones Day partner and President of CRF-OC.